Effective Coastal Management & Locally Managed Area Design Toolkits Covered in Workshop Held June 2015
In mid-June, combined toolkit training was held in Yap. The toolkits introduced were:
Tool 1: Designing Effective Locally Managed Areas (LMAs) in Tropical Marine Environments: Guidance to Help Sustain Community Benefits through Management for Fisheries, Ecosystems, and Climate Change; and,
Tool 2: Coastal Change in the Pacific Islands: A Facilitators Guide to Support Community Understanding and Decision Making on Coastal Erosion and Flooding Issues.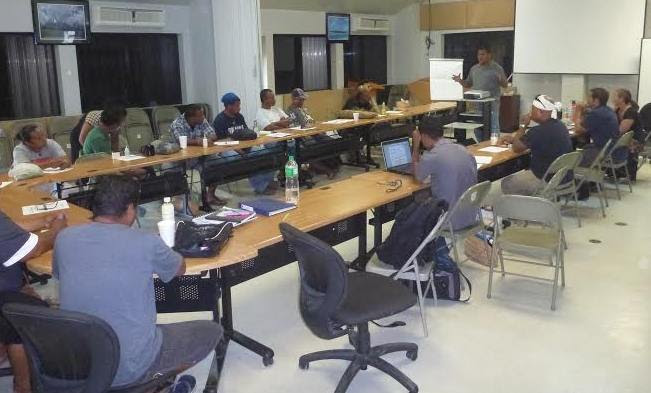 These tools are add-on components to the suite of community facilitation and awareness toolkits designed in Micronesia and the Coral Triangle. They were deployed in Micronesia as part of capacity building efforts to support community outreach and planning. Both tools are aimed at fostering community benefits and resilience through improved natural resource management and climate change adaptation.
The training brought a team of off-island resource partners to Yap for an intensive week-long training. The training was lead by the Pacific Islands Managed and Protected Areas Community (PIMPAC) Regional Advisors and Mentors, with technical support from marine and coastal scientists. Communities who participated in the training included: Tamil Resources & Conservation Trust (Tamil municipality), Weloy municipality, Balebat Rull, Gachpar Gagil, Rumung, West Fanif, Reey MCA, Ngulu Atoll Resource Management, and Nimpal Channel MCA. On-island resource partners who participated included Yap Community Action Program and Marine Resources Management Division.